2019 Seven Apart Expedition
CABERNET SAUVIGNON
For those just beginning their expedition, we recommend starting at the base of the mountain and experiencing this Cabernet Sauvignon blended with grapes from our Base Camp Vineyard and a touch of mountain top fruit from Stags Ridge Vineyard. This wine is intended to guide you throughout your entire journey, since after all, you have to work your way to the Summit.
91% Cabernet Sauvignon, 5% Cabernet Franc, 3% Merlot, 1% Petit Verdot
Base Camp Vineyard and Stags Ridge Vineyard
60 Barrels Produced
Tasting Notes
Winemaker Andy Erickson
The 2019 vintage is very much defined by high energy, fine focus, and generosity. The Seven Apart Expedition from 2019 is bright, polished and high-powered. A blend of 91% Cabernet Sauvignon, 5% Cabernet Franc, 3% Merlot, and 1% Petit Verdot, the wine is a tapestry of perfectly ripe fruit flavors.
The red-purple hue is notable, hinting at the freshness and intensity of the aromas. Red cherry, raspberry, and fresh tobacco come to mind, with notes of cinnamon, vanilla, graphite, and California bay.  On the palate there is a rush of red fruits, which continues to build in intensity as the wine is savored. The texture is incredibly fine-grained and silky, while the fruit at the wine's core expands and lengthens on the finish.
Cellaring & Decanting
This youthful wine is very intense—though accessible—right now, and will only gain in complexity and depth with time in the bottle. We think the wine's true potential will be reached between 2024 and 2034.
Once you are ready to savor the wine, we highly suggest decanting.
Decant young wines for 1 hour and add 1 hour of decanting for every 10 years of age. You can speed decanting wine by pouring the wine once or twice between two decanters (or between the decanter and the wine bottle with a funnel). If you don't have a decanter, swirl your wine in the glass. The swirling increases the surface area of wine to oxygen and aerates it just as decanting would.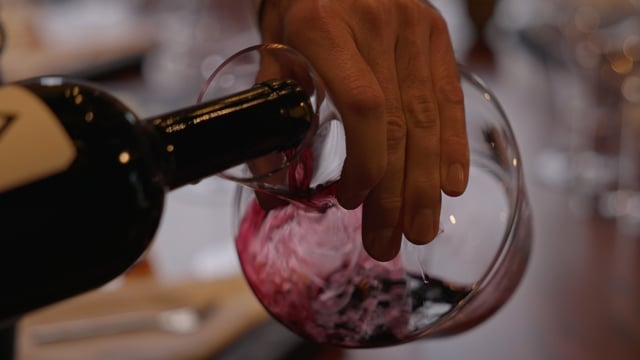 Review
"Opaque purple-black in color, the 2019 Seven Apart Expedition erupts from the glass with explosive scents of boysenberry preserves, blueberry pie and Black Forest cake, plus suggestions of molten chocolate, licorice, tar and violets, with a waft of sandalwood. The full-bodied palate is full-on rich and decadent, exuding layer upon layer of opulent black and blue fruit preserves with bags of exotic spice accents and a long, fragrant finish. Pure hedonism. It is tantalizingly delicious right now, but give it 3-4 years in bottle to blow off that puppy fat, and drink it over the next 25 years. 98+ Points"
— Robert Parker Wine Advocate, Lisa Perrotti-Brown
Review
"Big, bold, tarry notes take on a mellower toasted marshmallow and dark chocolate for a breathtaking adventure of flavor and texture. Black fruit melts across the mouth. Well-built from the inside-out, a core of minerality is surrounded by fig preserves, dried violets, and a blackberry intensity. Tannins are pronounced, with a savory slide of satin meatiness. This wine is certainly on another level. 98 points"
— Somm Journal
Previous
Next
AVAILABLE EXCLUSIVELY BY ALLOCATION
NOT A MEMBER YET?