2019 Seven Apart Basalt
CABERNET SAUVIGNON
As we celebrate the glorious mountain Atlas Peak that is home to our Stags Ridge Vineyard, we pay homage to its geological makeup. Basalt rocks are formed from volcanic activity, dark, fine grained and quite hard. This namesake wine shares those qualities and accentuates the bolder and richer side of mountain grown Cabernet Sauvignon.
100% Cabernet Sauvignon
Stags Ridge Vineyard
9 Barrels Produced
Tasting Notes
Winemaker Andy Erickson
Seven Apart Basalt is the stronger counterpoint to the softer, more nuanced Shale bottling from the estate. Both wines capture the spirit of the terroir in different ways. The 2019 vintage—the first to be completely produced at the new winery—checks all the boxes for classic Napa Valley. This new vintage of Seven Apart Basalt showcases the deep, powerful, structured side of the vineyard.  The winemaking is decidedly light-handed, the goal being to allow the vineyard come forward. Grapes were hand-harvested, sorted, and allowed to soak cold on the skins for five to seven days before fermentation. A long, slow maceration helped to build mid-palate and weight, while maintaining the fresh aromas and flavors of the fruit.  Drained directly into French oak barrels, the wine was aged for twenty months and then bottled without fining or filtration.
On the nose, the wine is dark and brooding aromatically, with notes of incense, camphor, ripe black fruits, and dark chocolate. The palate is equally compelling, with ripe, rich fruit framed by muscular Atlas Peak tannins. Fresh raspberry, baked blueberry, and myriad black fruit flavors come forward along with baking spices and even some floral notes.  A brief decanting and time in the glass bring all of these layers to the fore. The young wine has a lot to offer, and will continue to gain polish and complexity over the years with more bottle age.
Cellaring & Decanting
We expect this wine to age gracefully for a minimum of 10-15 years to be enjoyed at its fullest.
Once you are ready to savor the wine, we highly suggest decanting.
Decant young wines for 1 hour and add 1 hour of decanting for every 10 years of age. You can speed decanting wine by pouring the wine once or twice between two decanters (or between the decanter and the wine bottle with a funnel). If you don't have a decanter, swirl your wine in the glass. The swirling increases the surface area of wine to oxygen and aerates it just as decanting would.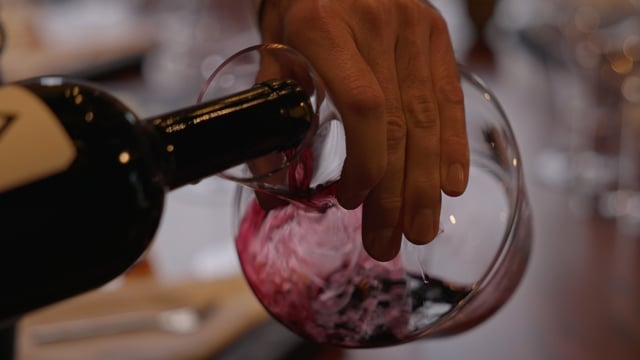 97+ points
"A bigger, richer wine, the 2019 Cabernet Sauvignon Basalt has a similar darker cherry, plum, and currant-driven core of fruit as well more minerality, iron, and roasted herb notes with time in the glass. The palate is on another level and is full-bodied, deep, rich, and concentrated, with incredible tannins as well as balance. This is pure Napa Valley Mountain Cabernet. Hide bottles for 2-4 years, and it's going to have 25 years or more of overall longevity. Bravo!"
-Jeb Dunnack
Review
"Notes of ripe black and blue fruit, sage, chocolate and pencil shavings with touches of flowers and nut shells. Full-bodied and dry with an array of polished, fine-grained tannins, succulent fruit and a velvety texture. Long, mineral finish. Will soften with age and deliver something really outstanding. Try in 2024 and onwards."
-James Suckling
Previous
Next
Available Exclusively By Allocation
Not A Member Yet?