2018 Seven Apart Summit
CABERNET SAUVIGNON
The climb to the Summit is never easy. It takes perseverance and only the best ever make it. Indulge in a wine that celebrates those worthy of the trek and want to experience the thrill of reaching the top. Selected from the best barrels from our mountain top Stags Ridge Vineyard 1,475 feet above Napa, this wine is worth the journey. Only 3 barrels are produced and available to select members by invitation only.
100% Cabernet Sauvignon
Stags Ridge Vineyard
3 Barrels Produced
Tasting Notes
Winemaker Andy Erickson
Dark, black-purple, and opaque, the 2018 Seven Apart Summit is highly aromatic, with an aroma profile as deep as the wine is dark. Baked blueberry, vanilla bean, cedar, and even hints of bay leaf fill the glass. On the palate the wine has a highly polished texture, rich and soft and with remarkable fruit intensity. The dark black fruit flavors dance with notes of oolong tea and gunsmoke, bringing layers of complexity that expand with time. With such softness and richness, the wine is hedonistic and pleasing right now, but will certainly develop over the coming years in the bottle. This wine shows to what heights wine can be taken when grown at the peak.
2018 was a growing season that offered up dark, delicious, perfectly ripe fruit throughout the Napa Valley. High atop Atlas Peak, where our soils are incredibly rocky, and the temperatures are cooler, the grapes became more concentrated as the season extended into late October. After careful sorting, controlled fermentation, and a long, gentle maceration, the wine was aged for two years in 100% new French oak barrels. The Seven Apart Summit is 100% Cabernet Sauvignon, from the heart of the Stags Ridge Vineyard. It is quite literally the créme de la créme of 2018.
Cellaring & Decanting
This wine will age for decades, but  if someone prefers more fruit in the expression, 3-5 years of age would be great. I prefer to taste these kinds of wines after 10-15 years in the bottle.
Once you are ready to savor the wine, we highly suggest decanting.
Decant young wines for 1 hour and add 1 hour of decanting for every 10 years of age. You can speed decanting wine by pouring the wine once or twice between two decanters (or between the decanter and the wine bottle with a funnel). If you don't have a decanter, swirl your wine in the glass. The swirling increases the surface area of wine to oxygen and aerates it just as decanting would.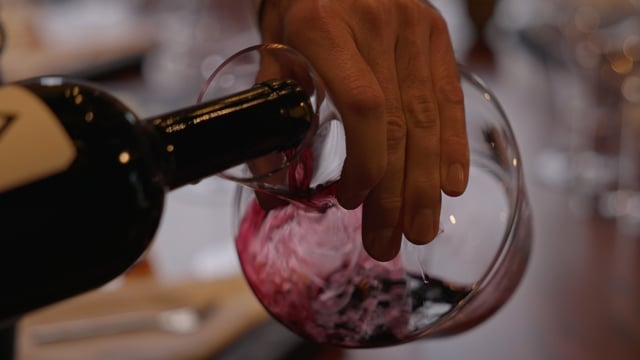 Review
"Blended from the best lots off the vineyard, delivers beautiful nuance and complexity with power. Warm baking spices, anise, cedar and graphite lead into a cascade of red, blue and black fruit, with crushed herbs, savory minerality and mouth-watering brightness."
— Robb Report
Available Exclusively By Allocation
Not A Member Yet?